Dimensions of Mathematical Thinking and Learning in the 21st Century
EVENEMANG
Datum:
09 november 2017 13:15
-
09 november 2017 14:30
Plats:
E 246
Bharath Sriraman is a Professor of Mathematics at Departmentt of Mathematical Sciences, University of Montana.
In this talk, we will briefly examine the history of identification of giftedness in the 20th century and examine Sternberg's ACCEL model that presents a case for the shortcomings of measures such as IQ for problem solving skills required in the 21st century. The Active Concerned Citizenship and Ethical Leadership (ACCEL) model is proposed to replace the outdated construct of IQ, particularly for the field of gifted education. In this talk, the mathematical dimensions of ACCEL are teased out in contrast to its presence in psychometric testing. Further, what is considered as relevant in mathematics for learners today is addressed in relation to the skills outlined in the ACCEL model.
Paper based on Roeper Review Special Issue: Wisdom and Ethics in a Changing World

About Bharath Sriraman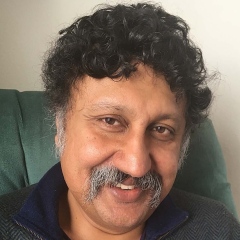 Bharath Sriraman is a Professor of Mathematical Sciences at University of Montana- Missoula. He is the editor of The Mathematics Enthusiast, and serves on the editorial advisory board of numerous other journals in the areas of mathematics education; giftedness and creativity; and innovation education. He received the 2002 NAGC Distinguished Brief of the Year Award, and more recently the 2016 University of Montana Outstanding Scholar Award. To date, he has published 30+ books and 200+ articles and book chapters in the areas of creativity, cognition, international mathematics education, interdisciplinary math-science-art and epistemology. Current projects include editing The Handbook of the Mathematics of the Arts and Sciences, to be published by Springer Nature.