How to reach us
Getting to the University
Stockholm University is situated in the middle of Sweden's first national city park and is characterised by natural beauty, unique architecture and contemporary art. The University is located only ten minutes from the urban buzz of Stockholm city centre, with easy access to shopping, music, fashion, architecture and culture.
By public transport
Underground trains: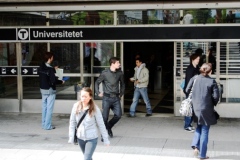 Arriving at the Universitetet metro station.
You can travel by the metro (underground/tube) from the central station in Stockholm (T-centralen). Take the red line northbound to Mörby Centrum and get off at the station 'Universitetet'. The journey takes about 10 minutes.
By bus:
Take bus numbers 50, 540, 608 and 670. to the University (Get off at 'Universitetet norra' for the main campus). Tickets must be bought before travel.
Tickets for public transport can be bought from newsagents as well as from SL (Stockholms lokaltrafik) ticket offices. See SL's travel page for more information. www.sl.se
By air:
There are a number of airports in the wider Stockholm area, including Arlanda, Skavsta, Västerås and Bromma.
For more information see:
How to get to the Department of Mathematics and Science Education
We are located at Svante Arrhenius väg 20 A. There is currently construction near our building so the google maps above may not reflect what it actually looks like at here.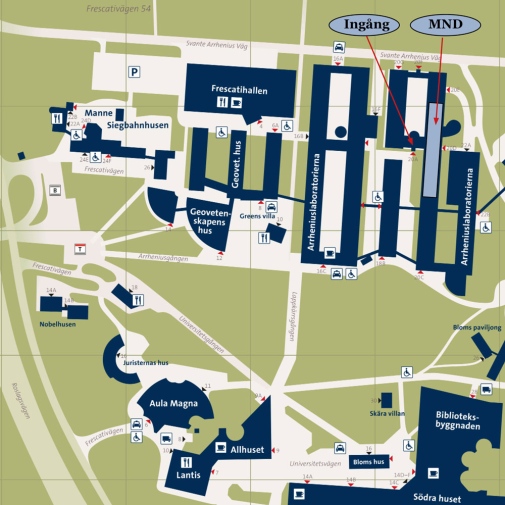 Last updated: September 22, 2016
Page editor: Ann Fridell
Source: Department of Mathematics and Science Education