Teachers and researchers in ERASMUS+ project "Language for Mathematics in Vocational Contexts"
A group of teachers and researchers, from Germany and the Netherlands, visited MND the 25th – 26th of March. They all participate in the ERASMUS+ project LAMAVOC. "LaMaVoC" means "Language for Mathematics in Vocational Contexts".
The Technical University in Dortmund is one of the partners, Lena Wessel (Freiburg University) and Susanne Prediger (TUD) coordinate the project, while Franz-Josef Berkenkötter, from the Bezirksregierung in Arnsberg is the coordinator of the administration of the project. The other partner is Freudenthal Institute at Utrecht University, from where Monica Wijers and Vincent Jonker are the leading researchers. Eva Norén, from MND, is the Swedish partner in the project.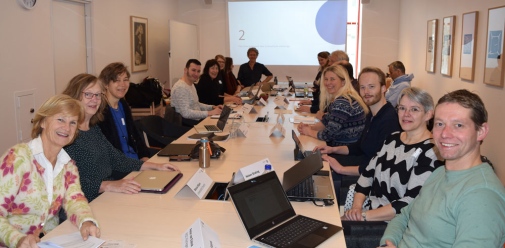 Educational concept for college/vocational program courses
The goal for the project, that runs from 2017 to 2020 is to develop and test an educational concept for college/vocational program courses that prepare students for vocational training in commercial and technical professions. This concept is guided by the vocational tasks and problems. It helps the students to improve their language and mathematic skills on the one hand and their chances for a successful completion of their training and finding a job on the other. On the classroom level, the project aims at developing teaching approaches and teaching units for workplace-related and language-integrated mathematics learning on the mathematical topics fields of percentages, proportional reasoning and functional relationships for vocational classes (graphs). See:
LaMaVoc – Language for Mathematics in Vocational Contexts
School visits
The Dutch teacher group visited two schools in Norrköping, Komvux Norrköping (Adult School) and Ebersteinska gymnasiet (Upper Secondary School). The visit was organized by Jan Gustavsson. The rest of the group visited Praktiska gymnasiet (Practical upper secondary school) in Stockholm, Liljeholmen. Lisa Björklund Boistrup from MND, who has a project running with the school, planned and took part in the visit together with Matilda Edström and Malin Lignell, both mathematics teachers from the school.