Long-awaited gathering place for 67,000 students
Finally! The expression may be overused but it is not out of place when it comes to summarising the feelings at Stockholm University after the inauguration of the new student building, Studenthuset. Studenthuset is now ready to receive both Stockholm University's 67,000 students and the general public. On 19 September, the Student House officially inaugurated by Governor Chris Heister.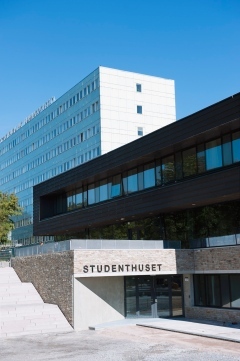 "A record number applied to Stockholm University this year and in the autumn we have a a total of 30,000 new students. So one can definitely say that Studenthuset is long-awaited! It is my hope that Studenthuset is a building that welcomes all students, both domestic and international, and offers a stimulating and creative environment," says Rector Astrid Soderbergh Widding, who expressing delight on behalf of students as well as for the University and the city as a whole.
Studenthuset provides students with a new focal point, close to the University's Student Services and the Student Union. The new building is adapted to the growing University's needs, and built according to modern requirements of sustainability and accessibility, both physical and digital. The text "Infocenter" in white against the wall painted in University Blue greets visitors at the main entrance. Here, students and other visitors can find the information they need, either digitally or in person.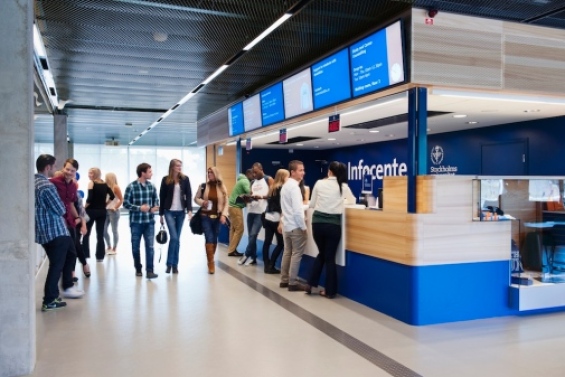 "We are very happy that we finally have been able to move into the beautiful new premises and that we now have a central place in the University. Studenthuset is really a natural meeting place for students and there are many important functions for students in general," said Micaela Kedhammar, chairman of the Stockholm University Student Union.
Consideration for climate and environment
Studenthuset is a modern addition to the architecture park at Frescati. The building was completed in August 2013 and is designed by Erséus Architects AB. Studenthuset is formed as a floating box, with stone, glass and wood as primary materials. Consideration for the climate and the environment has permeated the building project. The entire building is eco-friendly, making the house self-sufficient for both heating and cooling.
"Together with Stockholm University and the Student Union, we have managed to create a highly energy-smart student building, which is a role model in sustainable construction. We are pleased and proud to now be able to hand over this new, beautiful building for students," says Sten Wetterblad, Regional Director for Akademiska hus, in the Stockholm region.
A 40-year history
Studenthuset's genesis is a history of nearly 40 years that reflects what has happened in the world around - the move from the inner city to Frescatihallen, growing student numbers, the IT bubble, and the abolition of compulsory student union membership.
"As early as 1975, when we moved out to Frescati, Nobelhuset, the Student Union's previous location, was only intended as a temporary solution. We have always wanted to be closer to the students and it is now a reality," says Micaela Kedhammar chairman at Stockholm University Student Union.
Quick facts
Studenthuset over the years
1975: Stockholm University Student Union (SUS) moves to Frescati.
1995
:
SUS initiates project work on a new student union building using their own and donated funds.
1998-2002
:
Planning, architectural competition.
2002
:
SUS put the project on hold after the dotcom crashs.
2008-2010
:
SUS produces a new plan on the basis of previous work.
Compulsory student union membership abolished. Planning continues, the "Kårhuset" (Student Union Building) becomes "Studenthuset" (Student Building) with both SUS and Stockholm University as tenants and Academiska hus as builder. Shared project organisation.
2011
:
Construction started on September 1.
2013
:
Tentants move in 26 August, opening 19 Sept, open house for employees and
students 20 September.
For more information
Sofia Lagergren, Press Officer, Stockholm University,
Tel +46 722-33 33 85
Last updated: October 1, 2013
Page editor: Tomas Persson
Source: Department of Mathematics and Science Education

Application & Admission
Related links