Stockholm University's new mobile app makes it easier for students
Just in time for the opening of Studenthuset, the new student building, the University is introducing a mobile app which will enable you to use your phone to naviagate around the campus and find services available to students.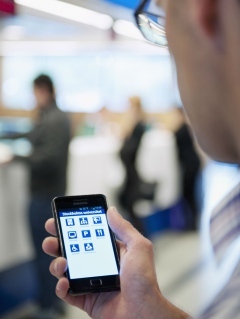 The app is available from the App Store and Google Play, and can be found by searching for "Stockholm University Guide". The app has a map function that makes it easier for students to find departments, buildings, lecture and exam halls, accessibility-adapted toilet facilities, and more within the student areas. The app also provides links to services related to Admissions, Graduation, Student Support, and other student-related information. Some of this information will also be accessible via touch screens in connection to the infocenter in Studenthuset.
The app will be expanded in the future
The aim is to gradually extend the content of the app to make it an increasingly complete tool for students. The app has been developed through a collaboration between the Department of Student Services, the IT Department, the Division of Building Planning and the Communications Department.
Last updated: October 1, 2013
Page editor: Tomas Persson
Source: Department of Mathematics and Science Education

Application & Admission
Related links