Judy Sayers: Issues in the teaching and learning of Early mathematics
EVENEMANG
Datum:
12 april 2018 13:15
-
12 april 2018 14:30
Plats:
E276
Full title: Issues in the teaching and learning of Early mathematics: Understanding the role of instruction. Judy Sayers s senior lecturer at Department of Mathematics and Science Education.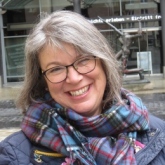 Abstract
The aim for this talk is to offer a brief critical overview of recent early numerical development research. First, I will offer a short review of what influential (neuro)cognitive research informs us of but question the narrow focus. Second, I present some key elements that are neglected in most (neuro)cognitive research on early numerical competences highlighted in the research field of mathematics education through number, measurement, reasoning and pattern and structure competences.
Third, I will highlight how State-of-the-art research in the field pays more attendance to the dispositional aspects of learning including spontaneous attention to numbers, relations, pattern and structures, not just in the classroom, but other learning environments including the home, as our own FoNS (Foundational number sense) project seeks to identify.
As a growing field of research in early mathematics education seeks to bridge core elements of early developmental learning with early formal instructional opportunities and practices, evidence increasing suggests the importance of providing appropriate environments, an ability to motivate children, early learning experiences at home, coherence between pre-school and elementary school mathematics and the professionalism of those who work in these settings.